---
OVERVIEW
---
Site Launch: 11/20/11
Current Paid Term: 12/1/11-11/31/12
Basic Monthly Services:
Technical checkup of all software systems and server health.
Installation of critical system updates & patches.
Sitewide functionality checks.
Verify Google Analytics tracking.
Check site in new web/mobile browser versions.
Test/optimize database and cache for speed.
Verify daily backups and download/offsite storage of monthly system backup.
Monthly status /action report.
Up to 1 hour emergency troubleshooting/repairs.
Ongoing content management training
Email/phone Q&A regarding content management
Periodic review of posted content to ensure consistency formatting and functionality
Unused time is banked for use during larger repair operations.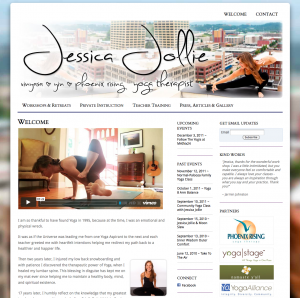 ACTIVITY (Newest at top)
---
July 2012
All basic monthly services
Update to new WordPress version 3.4.1 and QA entire site.
Review new "Upcoming Event" listings, make formatting fixes and make notes, send to client.
Telephone support on posting new items to "Press" page
---
June 2012
All basic monthly services
New video embed code (FitVids plugin) to remove black letterbox bars at certain browser sizes.
Improve layout of main navigation (underneath main header) on iPad and iPhone screen sizes.
Update to new WordPress Version 3.4 and QA site
---
May 2012
All basic monthly services
Assist with formatting on "Teacher Training" page.
Update Plugins:

Duplicate Post 2.4.1
Backup to Dropbox 1.0
WordPress SEO 1.1.9

Remove unnecessary plugins and speed up website
---
April 2012
All basic monthly services
Support call w/Jessica — 1.0 hours, 4/17
Update Plugins:

Contact Form 7 3.1.2
Duplicate Post 2.4
MailChimp 1.2.9
My Category Order 3.3.2
My Link Order 3.3.2
My Page Order 3.3.2
Tiny MCE Advanced 3.4.5.1

Update and test WordPress to Version 3.3.2 (a security and bug fix update).
Upgrade Backup System: switch to daily off-server backups via WordPress Backup To Dropbox Version 0.9.4
---
March 2012
All basic monthly services
Update and test WordPress to Version 3.3.1.
Support call w/Jessica — 1.5 hours, 3/13
Client Support: how to link to Vira Bhava retreat
Update plugins:

XmasB Quotes 1.6.1
Enable Media Replace 2.6
Contact Form 7 v. 3.2
---
(Activity prior to March 2012 available upon request)